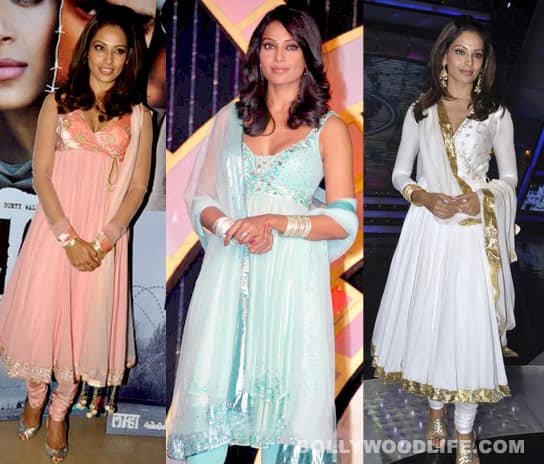 Giving her mother the shock of her life, ditching her spaghettis and shorts for Indian outfits, suddenly transforming into an obedient girlfriend…Bips has done it all, and when she was completely alert and aware and not under the spell of some kind of black magic

We are pretty much aware of the Bong babe's penchant for style and fashion. And if someone tells us that she can go to any length for acquiring the last remaining pair of Jimmy Choo shoes available, we would probably believe it. But things got extremely hard to digest when Bips herself said in an interview that she once went to the extent of changing her overall style statement for the sake of her boyfriend. Now this was way back, when the Bong babe was 15, a naive teenybopper and was in one of those puppy-mushy love phases. So when Bips – a hardcore carnivore and a lover of skimpy clothes – announced her decision of transforming into a salwar-kameez-clad young auntie and a strict vegan to boot, her mom virtually fainted. And so did we when we heard this one! Now although the Jodi Breakers actor has trudged a long way, experiencing her share of infuriating relationships, we are glad that she hasn't changed her statement for anybody. And as we occasionally do spot her in gorgeous anarkalis and ethnic ensembles, the self-confessed fashion lover also continues indulging happily in tiny bits of halter blouses and micro-mini skirts whenever she wants to.
We do love your individuality, Bips, and also respect your 'no one tells me what to wear attitude' but, trust us, it's no fun until we poke our noses into your wardrobe with rude comments and wait for you to rebel as you read us!