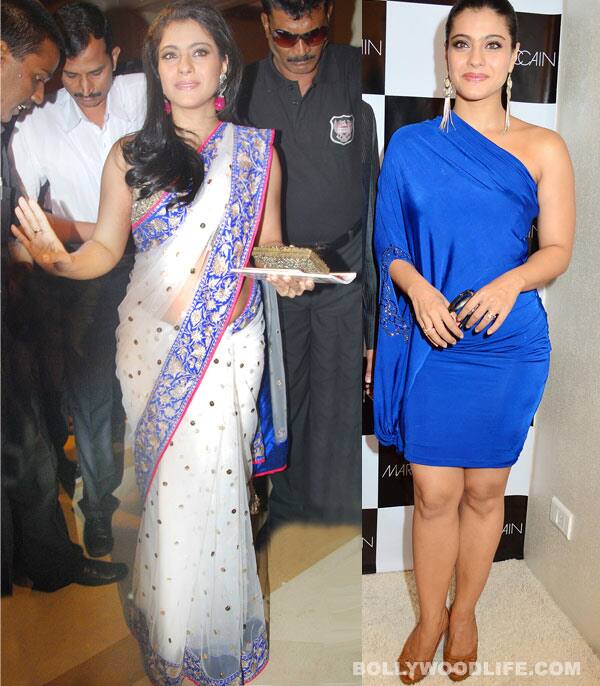 It looks like the actor, who had retreated into her shell for a while, has decided to come out of it, 'coz she's lost tons of weight. And as she's started to make an appearance at various events and posing for magazine covers, we are sure that this mother of two is no mood to hide from the public eye any more
We like the fact that she's transformed from plain Jane to glamorous babe, ditching monochromatic colours and her usual 'keep it simple and sweet 'coz I couldn't care less' style. We are mighty impressed with the Bong babe's new choice of wardrobe.
As she strutted around in a sequined Manish Malhotra sari at a recent soiree, we couldn't help but notice that she tied the drape really low on her waist despite that slight paunch sticking out. Now that's some confidence, Kajol!
Her one-shoulder blue outfit blew our minds away recently. She teamed it up with dangling metallic earrings and opted for nude make-up. Although the tan coloured heels are a tad disappointing, we think we will give turn a blind eye to that simply 'coz of her efforts to look glam-ma'am!
She has also started making sure she synchronises her hairstyle with her ensemble. For instance she preferred the loose-hair look with the ethnic sari and opted for a gelled-hair style with her one-shoulder dress. Along with gelling it up, she also pulled it back tightly and tied it back in quite a neat and tidy manner.
She's become supremely feminine lately and started experimenting with styles that are in vogue rather than taking the unconventional route. Though we like the much-needed change, we wonder where that Kajol has disappeared to, the lady who was unaffected by new styles and trends. And why is she trying to match her glamorous B-town counterparts all of a sudden? Till we find the answers, we think Mrs Devgn should continue wearing such fab clothes.