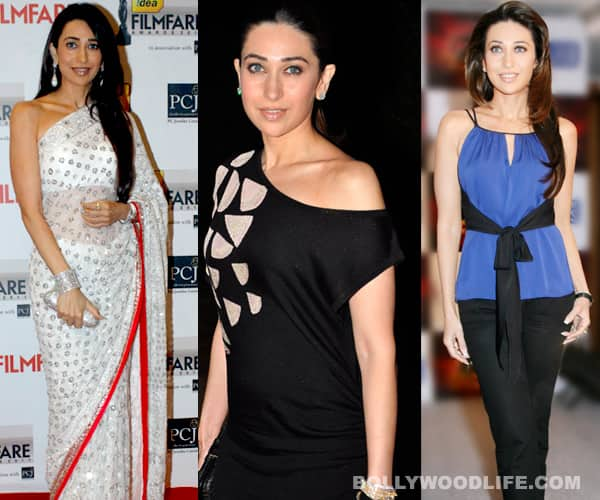 skip advertisement
She's the mother of two beautiful toddlers, but that has not stopped Bollywood diva Karisma Kapur from making the post-motherhood phase look ultra fabulous. We have been watching the gorgeous actor (read: yummy mummy) at various social dos and glitzy promotional events, only to be stunned by her classic, neat and elegant sartorial statement. And now, all set to make a comeback on the silver screen with her upcoming film Dangerous Ishhq, Karisma is turning heads like never before. So what is it that this dishy mom gets right every time to stand out in the glossy crowd with her understated yet graceful style quotient?
Motherhood brings about many changes in one's personality as indeed in one's style and wardrobe. Many new-age moms, in their haste to regain their fit-n-fabulous avatar, go into overdrive and get outrageously tactless with their style. Some behave as if the baby bump never existed and the stubborn cellulite never troubled their hour-glass figures. But if there is one celeb mother that we can safely look up to for her chic style sensibility, it has to be Karisma Kapur.
So what is working in Karisma's favour when it comes to style? Well, one word: simplicity. Karisma plays it amazingly safe and straightforward. She opts for basic colours – mostly black or white – and very rarely chooses bold and edgy hues. Be it her tops, off-shoulder evening gowns or saris, Karisma stays away from shocking experiments. Instead, she believes in accessorising her outfits with the right bags or clutches and footwear. Her jewelry is personalised and make-up almost always nude.Though she keeps her hair simple and straight, she does play with it a little to match the look. Away from body hugging outfits, loud prints and clumsy bandage dresses, Karisma keeps it loose, comfortable and effortlessly stylish. The ultimate result is never-failing and we love it!