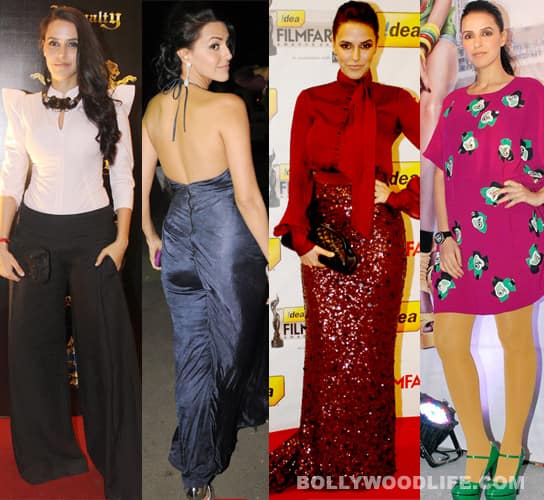 In an industry where the top-most concern is to lose every ounce of cellulite, Neha Dhupia is one chick who knows how to spruce herself up despite her big behind and heavy thighs
While people went gaga over John Abraham's behind in Dostana and Shahid Kapoor emerged as the winner of the 'sexiest butt' poll conducted on bollywoodlife.com, we think Neha is one actor who hasn't received the due credit yet, despite the fact that she's been in tinseltown long enough. We think she is one woman who's got the balls (pun intended) to dress in a way that highlights her big, gifted posterior and flaunt it with absolute élan. Right from flared palazzo pants to figure hugging dresses and skirts, looks like Neha takes extreme pride in her curvaceous body and doesn't bother to cover it up with loose and unfashionably flowing outfits. Just as with the likes of J Lo and Beyonce, the actor has also been approached to insure her ass, we are told. We haven't heard her reply yet, but we must say that she's turning out to be hot property in Hollywood too and getting noticed for her hourglass figure. Style-wise the actor either goes for the classy or funky look. Along with la-di-da designer outfits, she can also carry off-the-wall yellow leggings and blinding green footwear with equal spunk.
Now we love your confidence, Neha, and we hope your derriere helps you accelerate your career…at full-on speed, of course!