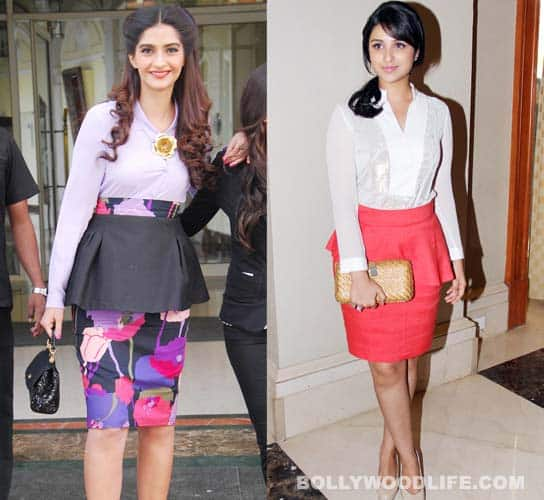 Peplum skirts have started to become a regular statement at fashionable Bollywood dos. Even though it's a style that's difficult to wear, especially with a curvy, generous-hipped Indian figure, we must say that these gals are leaving no stone unturned to make the most of the classy trend
 As we spotted Sonam Kapoor and Parineeti Chopra flaunting this style, we wondered who did more justice to it. On the one hand there's Sonam Kapoor – the ultimate fashionista – and on the other, we have Ms Chopra, who's a fairly new entrant to the glamour world. As we saw Sonam settling for a printed peplum skirt at a recent event, we wished she had at least given us a heads-up about what she was going to wear. After blinding us with a jarring peplum skirt and making us go through the trauma of looking at her hideous outfit, Sonam's dress demanded an antidote – and Parineeti's ensemble was the perfect cure.
Pari teamed a pretty coral-coloured peplum skirt with a full-sleeved white shirt. Ironically Chopra had a very 'babe in the woods' kinda expression in the picture, which is an absolute antithesis to the brash persona we saw in her debut film Ladies vs Ricky Bahl.
No points for guessing who won our hearts with the peplum style. Sonam got it right with the attitude, but messed up when it came to colour. And the Ishaqzaade babe made sure she stuck to the nuts and bolts of fashion and came up with a delightful combination – way to go gal, you take the cake and the frosting this time!