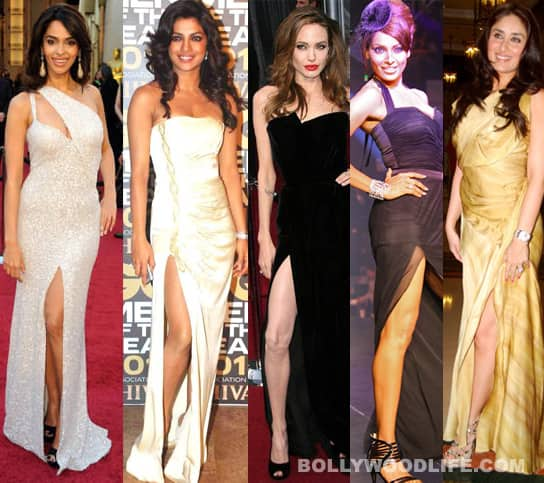 Just when you thought Angelina Jolie went overboard with her pose at the Oscars by sticking her right leg out and flaunting her front-slit gown at the red carpet, we skimmed through our database and realised that our bollywood beauties are not far from it either
They love to show off those toned legs and put on the ritz too. From Bipasha Basu to Kareena Kapoor, everyone loves the attention of the paparazzi and likes to be featured on one of those la-di-da glossies. Although there's no denying that there's something very sensual about posing in a sexy gown with your leg sticking out, you have to agree that you require great amount of femininity and attitude to carry it off. As Ms Jolie sashayed around in a Versace gown at the Academy awards and made a caricature of herself with her extreme star-like behaviour, she did attract a lot of good comments too for her ensemble along with the unsparing flak. And amidst all the brouhaha, we wondered who from Bollywood could do justice to this sexy slit fashion. It turned out that Bong babe Bipasha wins hands down. While Kareena and Priyanka appear a li'l self-conscious, Mallika Sherawat loves creating waves with her deep cuts.
So now since these babes know that finesse is all that it takes, to look like Angelina, they could follow suit the next time around, but without making a mockery of themselves of course!