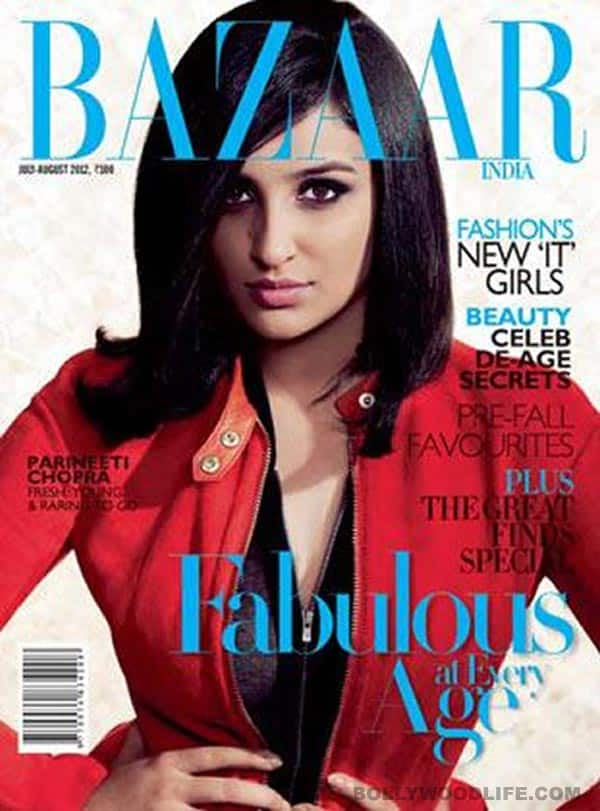 Parineeti Chopra looks gorgeous on the recent cover of Harper's Bazaar. The babe surprises us by opting for a chic makeover and boy, are we impressed or what!
Parineeti has been trying to transform herself into a fashion diva for quite some time now. There are times she has fallen flat on her face and on certain occasions she has nailed it – and how! But in the process the babe has failed to notice that her faux pas were outnumbering her fashion victories. And now that she has realised her goof-ups, we think the Ishaqzaade gal is trying her best to rectify her style gaucherie. And since desperate times call for desperate measures, Pari starts by changing her style statement drastically for the cover of a fashion magazine…
So what's so great about her new look?
Straight hair
It's such a breath of fresh air to see Parineeti sporting a poker straight hair style. The wavy finish lends a very retro feel to her look. And what's interesting is that this hairdo makes her face look less plump and her jaw-line better defined.
Dark kohl-rimmed eyes
Pari's smoky eye-make up style looks very Goth. The bubbly Ms Chopra is nowhere visible in the picture; all we see is someone who's bringing her intense self to the fore and she seems to be enjoying every bit of it…
The slight pout
Posing and pouting, Pari has taken the minimalistic route when it comes to lip colour. The nude hue complements the subtle pout. And we are glad she didn't go overboard with the pouting, or else it wouldn't have taken us much time to trash her style right off the bat.
Leather jacket
We love the combination of a sophisticated hairdo and a biker babe look. Very innovative and off-the-wall, Chopra carries this unusual statement perfectly. She poses in a way that makes it look like the jacket is cinched at the waist. A sexy babe heading out on an escapade – that's the first thing that comes to our mind when we see the cover and we quite like it…