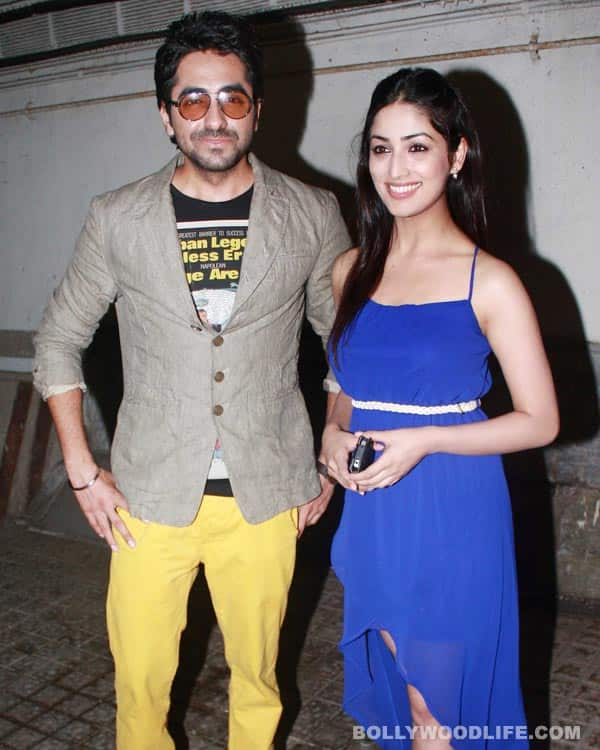 The actors were spotted at a special screening of their first film Vicky Donor and even though we quite like the outfits chosen by the duo for their big day, we think that alone isn't enough to change our minds and forgive the glaring style glitches…
Ayushmann Khurrana and Yami Gautam received rave reviews for their performance in their first film, Vicky Donor. And we have nothing against these fledgling actors when we say that they could have been a tad more careful while dressing up, at least on the day their movie released. For instance, Khurrana didn't really have to opt for cool sunglasses with his stylish ensemble, considering he was aware that the event was taking place in the evening. Unless he's suffering from sore eyes or trying to hide his tears of happiness, we don't think those aviators are an evening red carpet statement that we approve of.
Yami, on the other hand, looks supremely pretty in an asymmetrical blue empire waist dress. How we wish she had moisturised her legs or maybe bothered to glam it up a li'l by applying a bronzer lotion! Also, we think peep-toe pumps would have matched better than the pointy, closed shoes she's chosen to flaunt.
After all is said and done, we think this competent onscreen couple has battered the egos of many B-town superstars by now, but when it comes to style, these two need to get down and start honing their fashion acumen…