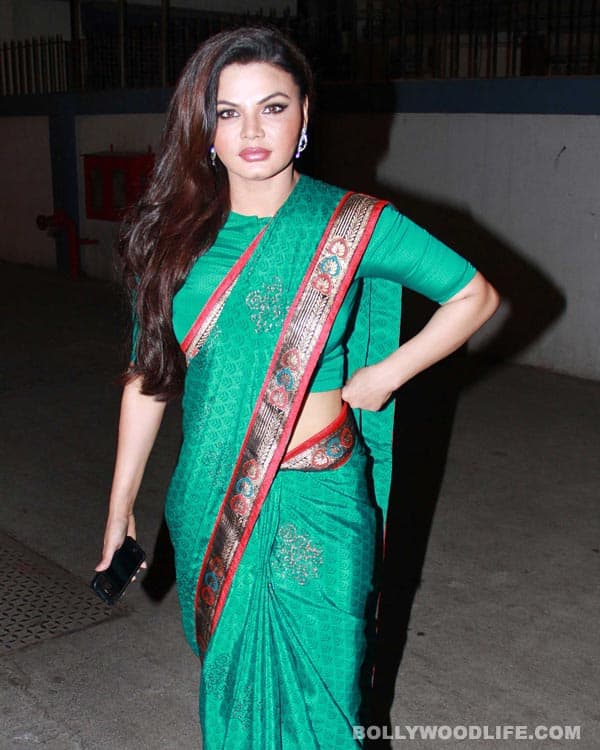 The item queen recently attended the Dr Babasaheb Ambedkar Awards and we were dumbstruck to see her in a pretty green sari teamed with a prim and propah high-necked blouse!
Although her ensemble seems to be inspired by politician Sonia Gandhi, what confounds us is a small question: What made Ms Sawant ditch all the bling that is part of her usual style statement and opt for something that's the absolute antithesis of skimpy? But some things never change, which we like about our fave item ladki. In fact, after seeing this picture, you would agree with us that the style she opted for may be radically different, but that attitude is still the same. Her usual don't-mess-with-me pose and her aggressive countenance continue to be her signature mannerism. And what's hilarious is the fact that she has the audacity to ruin the best clothes by randomly uttering something brash or by producing a series of unpleasant expressions.
We heard that Ms Rakhi is all set to do a role as Bhanwari Devi, a nurse from Rajasthan who was allegedly raped and murdered in 1992. Taking Rakhi's attention-seeking behavior into consideration, we weren't very surprised when we heard that the babe has packed her bags and is all ready to leave for Rajasthan to do the much needed homework for her role.
Now whether that covered-up avatar is a last minute publicity stunt for her movie or her eccentric way of honoring Sonia Gandhi, we don't know yet. But one thing's for sure – our Rakhi has been pretty successful in doing what she wanted to achieve. That look caught our attention, right off the bat…