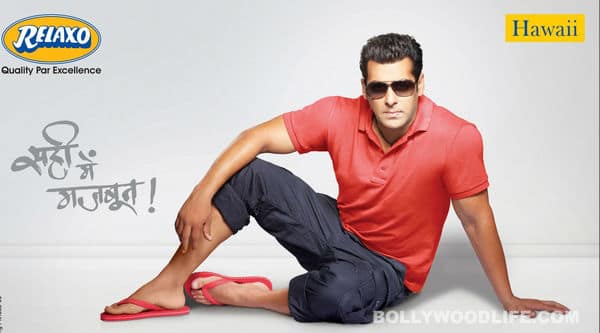 It may be recalled that Salman used to endorse Red Tape brand of shoes, but now he's moved on to Relaxo
Salman Khan has been signed on to be a brand ambassador for a high fashion range of Hawaii slippers for footwear brand Relaxo.
The actor said in a statement, "Relaxo is one of the most trusted brands in footwear, and I'm glad to be doing this commercial as it is focussed on the concept of mazbooti (strength), and completely suits my persona. The product and the ad are both very appealing and I'm sure the viewers would like them a lot."
Salman will soon be seen in a 45-second TV commercial created by ARMS Communications Pvt Ltd. The ad film will show Salman saving different girls from life-threatening situations.
Gaurav Dua, executive director, Relaxo Footwears Ltd said, "Salman, the heartthrob of India, depicts strength, attitude and style, thus making him the perfect blend for being the brand ambassador of Hawaii slippers."
Other brands being endorsed by Salman are Mountain Dew, innerwear brand Dixcy Scott, tablet BlackBerry Playbook and Wheel soap, among several others.