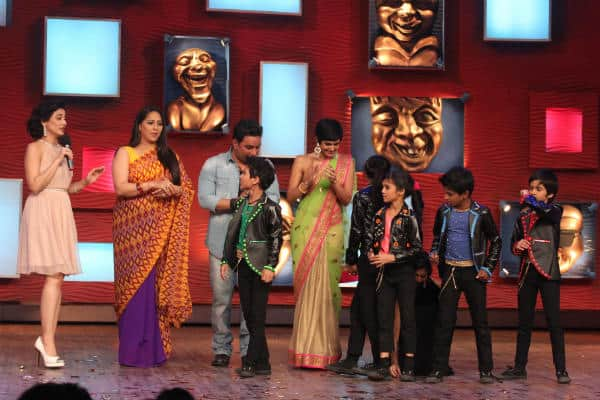 Known for his mischievous antics on the sets of Dance India Dance L'il Masters, the choreographer seemed to be in his element while visiting the sets of Zee TV's comedy show Gangs of Hasseepur for a Mahasangam episode shoot
Ahmed Khan was quite excited to see a stand-up comedian – Dr Sanket Bhosale, enacting his good old friend – Sanjay Dutt. Appreciating his sense of mimicking Sanju baba to the T, he seemed to have a blast on the sets. Joining him up on stage, Master Ahmed couldn't help himself but mimic Sanjay Dutt himself.
With the topic of discussion being, "Kya Aapke Toothpaste Mein Namak Hain?" (Does your toothpaste have salt), Suresh Menon, playing the role of angry journalist Hardam Swami, turned to ask the question to Ahmed Khan seated along with the other judges on the panel. While the mimic artist playing Sanju Baba has just finished talking, Ahmed picked on from him and immediately responded to Suresh Menon's answer saying, "Mere toothpaste main laung hain" (My toothpaste has Clove). On hearing Master Ahmed mimic Sanju Baba, Suresh Menon could not control his laughter and teased him, saying, "Agar aapke toothpaste mein 'Long' hai, toh aap itne 'short' kyon ho?"
Very soon, Ahmed Khan will choreograph a special number for Sanjay Dutt's three year old son. Talking about his visit to the sets of Gangs of Hasseypur, Master Ahmed said, "As if the madness of the kids on DID L'il Masters sets wasn't enough, visiting the sets of Gangs of Hasseypur only added to the masti. It was fun to watch and in fact be a part of all the comedy segments by Raju Shrivastav and Suresh Menon and shoot with all of them."
Master Ahmed accompanied by Geeta Kapoor and the brilliant performers of DID L'il Masters will be on the sets of Gangs of Hasseypur this Saturday evening from 8 pm to 10:30 pm.