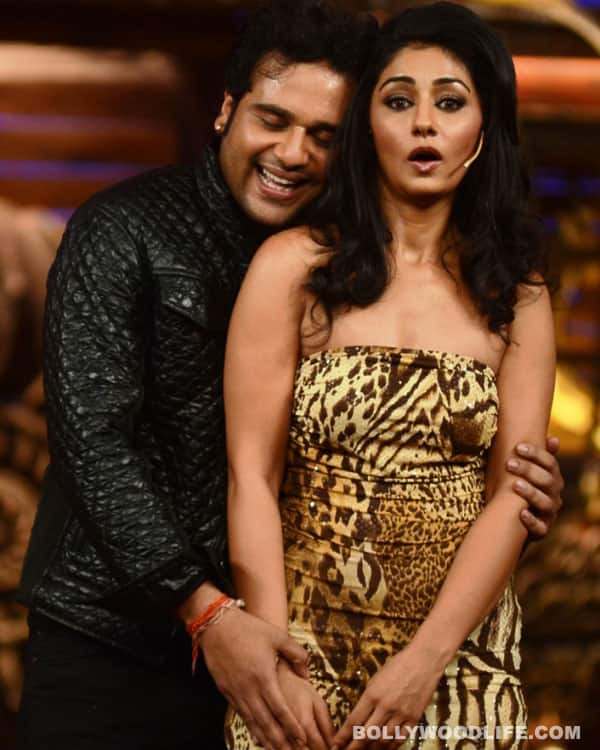 The two got together while doing a skit for the comedy show
Uh oh. Look who Krushna is cozying up to. It's Mahek Chahal! The Bigg Boss 5 gal has replaced Sumona Chakravarti as Krushna's partner in Comedy Circus. And we hear that the two make quite a sizzling pair! In tomorrow's episode (May 20), Krushna and Mahek will set heartbeats soaring as they perform a hot skit.
Before they can do that though, Krushna has to win her over. For that, he has to fight fellow comedian Sudesh. The two engage in a war to impress the beauty. Krushna is so besotted with her that he doesn't stop from employing any tactic to win the war. He romances her and dances for her in an effort to beat Sudesh. However, whether Mahek will fall for him is not the most question about the skit. What we are waiting to know is how Krushna's girl Kashmera Shah will react to his antics. Aren't you eager to know too? Uff, we know the whole Krushna-woos-Mahek thing is an act, and just for the show but we are hoping  anyway that Kashmera will join in. Atleast she'll make it a li'l bit funny.
ALSO READ: Kashmera Shah and Krushna Abhishek get raunchy in 'Boneless biryani' item song