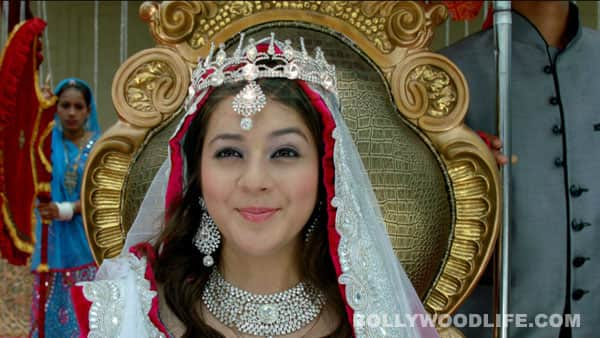 Manyata's dream to become a Yuvrani will finally come true provided she emerges unscathed from the dangerous mishaps that await her!
After dodging some serious obstacles thrown in her way by evil sister Jaynandini aka Jay, Manyata somehow manages to stay alive and kicking. Remember the recent snake episode, where Manyata was saved by a whisker? Here's what happened – Jay's brand new alliance, Daai ma had planted a poisonous snake in Manyata's bedroom. But in the nick of time, Udayveer saves the princess' and decides to stay by her side all night. Just in case of any more mishaps.
Next morning halkat veda Udayveer decides to look out for dear Manyata while keeping an eye on her evil sister too. But alas, the prince gets caught up with his socialising duties that divert his attention. Taking advantage of this moment, Jay slips into Manyata's room.
Manyata, who is suffering from a splitting headache (courtesy: day long fast) tries to shoo away her irritating sister. But then Jay offers her an apple and warns her that if the Yuvrani to-be remains hungry for too long she might fall unconscious during the most important ceremony of her life. Poor Manyata pays heed to Jay's advice and bites into the apple. Little does our princess from the chawl know that the apple is doused with some kind of poison that's so quick that Manyata collapses after the first bite.
Meanwhile, Uday realises that Jay is missing. But it's too late! Manyata is already unconscious, and that too just before the coveted moment! But we all know that Manyata will get well pretty soon, thanks to the promos pointing at her donning the sparkling crown. But how, is the question that begs to be asked. Will it again be Udaybeer to the rescue? And then what fate awaits evil Jaynandini? Find out the answers to all these questions today at 8.30 pm on Sony Entertainment Television.
ALSO READ:
Jay Bhanushali: No one watches male-oriented shows