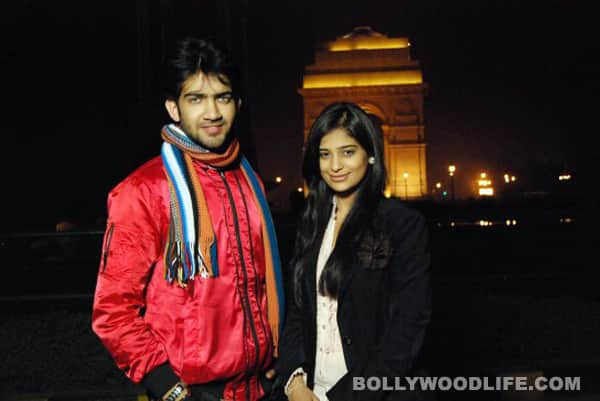 Rajan Shahi's latest love story is set in the New Delhi of the present but has characters behaving like they belong to the 1950s
When the makers of Jamuna Paar promised us that it was a love story about a working class boy and a rich gal in New Delhi, we expected a lovely portrayal of the hustle bustle of the city, the uniqueness of the Jamuna Paar area and the posh bungalows of South Delhi. What we got instead over the past 27 episodes is an unconvincing set of the Jamuna Paar bylanes, a bungalow filled with caricatures straight from a Cinderella story and two lead characters who seem to have walked out of a 1950s village. Bijjuji? Madamji? They are in love, but not only do they address each other that way, but even think of each other privately too by those names. Come on!
For those who are yet to tune in to the show Madamji…err, I mean Vidhi… is the rich kid from South Delhi, a fashion designer who is unfortunately not appreciated by her family. She is supposed to be the quiet one and a bad liar. She feels her family just doesn't understand her and, as she tells Bijju, they have never made her feel special. Bijju has a clothes workshop with a team of weavers and tailors working with him in Jamuna Paar. He likes burping at dhabas and showing Vidhi the brighter side of life and, you guessed it, making her feel special. So much so that she gives up her dream of going to Paris so that she can stay in Delhi and stay in touch with him. Now at least they can start calling each other by their names, right? Nope. He climbs through her window at night and it is still "Bijjuji" and "Madamji".
There are some things about Jamuna Paar that we actually liked. It has a clipped pace: in one month the leads have moved from being total strangers to tacitly agreeing that they are in love. And the fact that Bijju's misunderstanding about Vidhi and her relationship with spoilt brat Rohit Khanna didn't last longer than a couple of episodes is a positive aspect that we don't usually see in other shows. Then there is Mohit Dutta, who brings out Rohit's demonic aspect so well in his portrayal of the rich brat that you can't help but be excited when he is onscreen. Ankur Verma tries hard to make Bijju likeable, but there is only that much you can do with a heroic character, but so much more with a character who has grey shades. Vidhi Parekh is so coyly insipid as Vidhi that it gets irritating after a point. Hopefully once her character grows a backbone we'll see the actor shine too. Amita Nangia is wasted in the caricature of a spoilt, rich woman.
If you can get beyond the so-called-old-world-charm-but-is-not aspect of the show, then Jamuna Paar is worth your time.
Jamuna Paar airs weeknights at 9pm on Imagine TV