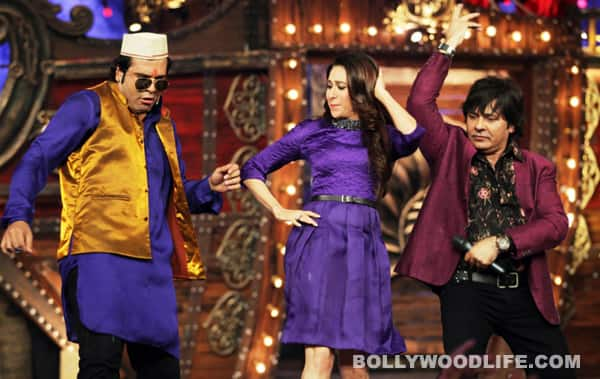 The Dangerous Ishhq actor is the latest to reveal anecdotes from her personal and professional lives to promote her upcoming film
Karisma Kapoor is a busy gal nowadays. With relationships to mend and a film to promote, she has her hands full. The latest item on her agenda coincidentally combines both these duties on a public platform. Karisma recently reunited with her former co-star, Archana Puran Singh while promoting Dangerous Ishhq. The reunion occurred on the sets of Sony TV's Comedy Circus. Fans of the show will know that Archana and Sohail Khan are the two full-time judges on the show. Karisma will be a guest judge for one episode. A li'l birdie told us that coming on the show gave Lolo an opportunity to get in touch once again with Archana. The two had become quite friendly when they shot for Raja Hindustani way back in 1996. However, they lost touch soon after. They are coming together once again after 16 years! Yawn! Is that something we are really concerned about? How is witnessing their reunion going to make us want to watch Dangerous Ishhq?
If that publicity stunt was not gimmicky enough, here's one more. We've been assured that we'll get to learn one more thing about Karisma this week. Did you know she is a huge cricket fan? We've heard that she will talk a lot about her love for the game with Sunil Gavaskar and Navjot Singh Sidhu on Max's Extra Innings T20. The show's host, Sameer Kochhar, is Karisma's co-star in Dangerous Ishhq. The actor is going to blush prettily and let Sameer narrate some 'interesting anecdotes' about Lolo's antics during the film shoot. Why can't they just leave cricket alone?
Looks like we are going to suffer an overdose of Karisma this week. She may have been away from the industry for almost a decade, but she still knows how the publicity machine works. She is pulling out all the stops to ensure her comeback film draws audiences in droves. Let's hope she has paid that much attention to her performance too. In the end, a film works because of its substance and not because of any such publicity gimmicks. Do you agree?