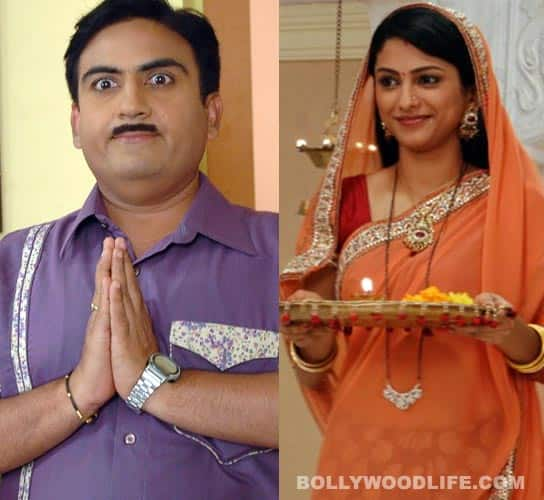 They are just two of the several Gujarati shows on air currently that are doing extremely well
Gujarati culture came right into Indian drawing rooms with the popular television show Ek Mahal Ho Sapno Ka in 1999 and, after more than a decade, it is still one of the strongest flavours on the tube. Those based in Bihar, Uttar Pradesh, Madhya Pradesh, Haryana, Rajasthan and Maharashtra too abound on the small screen. Be it a weekly or a daily soap, the regional flavour is everywhere. But Gujarati shows dominate. Shows like Saath Nibhana Saathiya, Taarak Mehta Ka Ooltah Chashmah and Ram Milaayi Jodi are continuing the trend that started 13 years ago and hit a high with Baa Bahoo Aur Baby and Khichdi.
Ekta Kapoor's Kyunki Saas Bhi Kabhi Bahu Thi took things a step ahead and was followed by a long list of Gujarati culture-based shows – Sarabhai Vs Sarabhai, Teen Bahuraniyan, Jasuben Jayantilal Joshi Ki Joint Family, Hamari Devrani, Bandini, Mukti Bandhan, Krishnaben Khakhrawala, Gulaal, Papad Pol and Sanskaar Lakshmi.
From showing a typical Gujarati household to their festivals, functions and colourful wardrobe, the shows spread the vibrant colours of the state to the remotest parts of the country. Actor-director Jamnadas Majethia, the man behind Khichdi and Baa Bahoo Aur Baby, told IANS: "I believe out of all, Gujarati and Punjabi cultures are the ones that almost everyone recognises. They are very colourful communities with a rich literature and the scope of entertainment is also much more than others. Shows based on these cultures get more TRPs. So for makers it becomes easier to do a show with a Gujarati or a Punjabi background." Thanks to these shows, popular Gujarati dishes like khakra and thepla have become popular among the masses.
Of course, other regions too have been highlighted. Kasauti Zindagi Kay and Tere Liye revolved around Bengali families, while Jassi Jaisi Koi Nahin, Geet…Hui Sabse Parayi and Preeto were about Punjabi families. If Maryada is set in Haryana, Na Bole Tum Na Maine Kuch Kaha is set in Indore, Madhya Pradesh. Mann Kee Awaaz Pratigya is based in Uttar Pradesh and Afsar Bitiya is the story of a Bihari girl.
For producers, placing a show in a specific region or a culture makes production much easier. "When you give a show an identity like Gujarati, Punjabi or Marwari, it not only makes the viewers connect with the show but also helps makers in giving a background to the show in terms of costume, jewellery, dialect or characters," said Rajan Shahi, producer of Yeh Rishta Kya Kehlata Hai, the story of a Marwadi family.
If people sitting in Bihar or Jharkhand these days know about Gujarati or Marathi culture, it is to a large extent because of these daily shows. "TV shows based on Gujarati, Marathi or Marwadi cultures have made audiences all over the country aware of the customs and rituals of different regions. The shows have broken barriers and brought people together," Suzana Ghai, creative director, Star India, told IANS. "If the audiences are from that region, they know about it and watch it with more interest. If they are not, they want to know about different cultures and watch the show. So both ways, the shows gain popularity," she added.
Also makers and writers from different regions are keen to tell stories about their part of the world. "I am a Gujarati myself and I know the state very well. So it becomes easier to play a Gujarati character or make a Gujarati show. Also, it's a culture I have in-depth knowledge of," said Majethia.
The trend of such shows is here to stay, said Ghai. "The makers are always in search of new ideas and keep experimenting. So we will see more shows based in Uttar Pradesh or Bihar or other regions," she said.
It's not that generic shows have stopped being made. Bade Acche Lagte Hain and Kuch Toh Log Kahenge are general in approach. The focus is more on the story instead of the regional background. "But I believe this trend will take some time to take over. Till then regional shows will continue to hog the limelight," Shahi said.