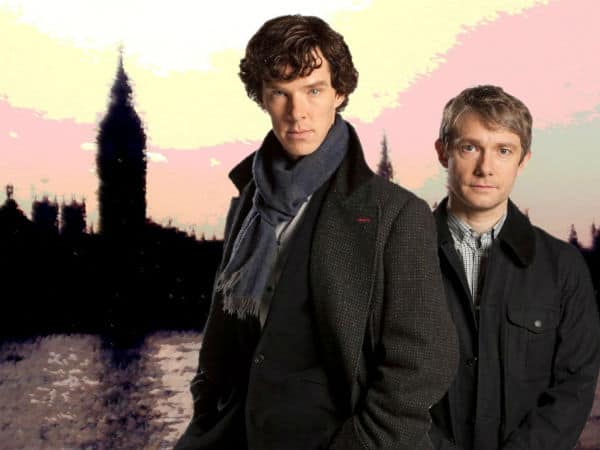 We heard a rumour that the ace detective was briefly in the Indian capital to help the Delhi Police solve a crime using his expert methods…
Last we saw, Sherlock Holmes (Benedict Cumberbatch), was dead. He fell from the terrace of a tall building and bled his life away, even as Dr Watson (Martin Freeman) watched, aghast and grieving. Cumberbatch and Freeman did a fabulous job in the first two seasons of the TV drama Sherlock and we wait impatiently for the start of Season 3 tomorrow night. And, as expected and with enough warning, it turns out that Sherlock is not dead. Repeat: NOT dead.
Turns out that the ace gumshoe faked it all, not telling even his partner what was going on, all to escape the evil machinations of Moriarty. And he is back to solve the most heinous of crimes with Watson's help, as we have waited for him to start doing. The promos have been doing the rounds of the TV channels over the past few weeks and the anticipation has built to the point where we at BollywoodLife have started wishing they would get on with it!
But fans of the show in India were in for a bit of a surprise recently. The makers of Sherlock came up with an innovative idea to promote the series – this time with a seven-minute mini-episode. The story of the short goes something like this: Detective Anderson (Jonathan Aris) tries to convince Inspector Lestrade (Rupert Graves) that Sherlock Holmes is not dead. His proof: Complex cases in various parts of the world have been solved with that special Sherlock-ian panache, a flair that couldn't possibly be duplicated by anyone else. One of these special crimes was in New Delhi. A clip shows a press conference being held in the Indian capital, with Inspector Prakesh telling the media how he identified the killer by "working out the depth to which the chocolate flake had sunk into the victim's ice cream cone". He thanks a 'friend' and the camera pans to a tall thin figure in a long coat standing just outside…
Glitches apart, the promo is already popular. And it has served its purpose – to get us hungry for more!

ALSO READ:
Are Karan Singh Grover and Jennifer Winget doing a show together?
Nach Baliye 6: Salman Khan to promote Jai Ho on the dance reality show!