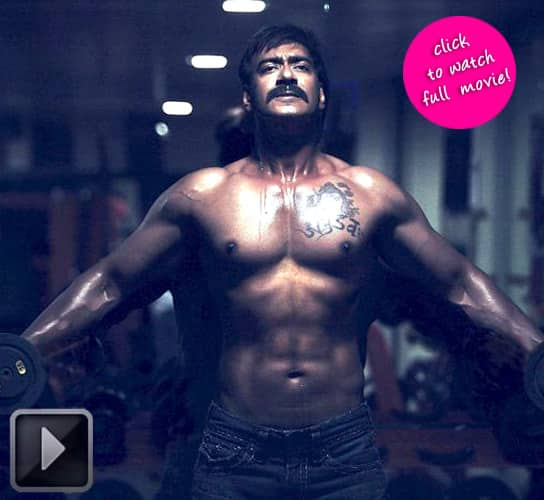 Wanna know who is the man behind Ajay Devgn's sculpted body in Singham? Here's a hint – he has trained Shahrukh Khan for Ra.One and Abhishek Bachchan for Dhoom 3 too!
Ajay has had a great journey from a lanky hero to a six-pack dude! And the man behind his to-die-for body is fitness trainer Prashant Sawant. Prashant's journey began as an overweight guy and in the process of losing the flab he realised that he liked to help other people get fit too! Eventually, Prashant reached Shahrukh Khan and helped him get the look for Om Shanti Om.  Catch a glimpse of Ajay Devgn's sculpted body in Singham right here on YouTube Boxoffice. Building a body is definitely not cake-walk. And in today's era, where movies invariably involve superheroes, gadgets and muscle-power, a hero who is impeccably built is a must! The one scene that does justice to all the hardwork Ajay has put into building his body is when he rises from pond wearing a low-waist dhoti.  "Ajay has a good body, so it was not very difficult," says Prashant. So, what all went into making the brawny Ajay Devgn? "We used to take turns and do the push ups on the sets, which worked really well," says the trainer and adds "While working towards sculpting his body we would work on each body part two hours every day. Sometimes, we mixed it with cardio." While Ajay was allowed to eat a little of everything, we found that carbohydrates were almost banished from the diet. Prashant made Ajay Devgn eat high protein food such as chicken breast and egg whites every two hours. But wethinks there is a secret ingredient involved that rests only with your physical trainer. So, it's necessary you find the right kind of trainer, or you might end up having muscles jutting out from funny places. Right, Ajay?
Tempted to watch Ajay Devgn as an action hero? Then, click to watch the complete movie Singham for FREE!