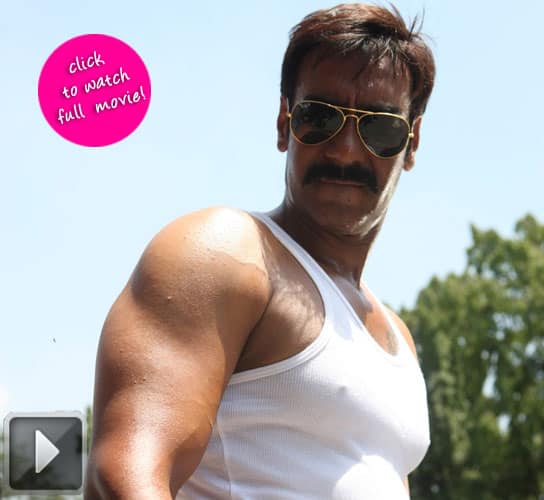 After a long time, Ajay Devgn has ditched comedy to return to action packed drama with Singham. In a candid chat, the actor speaks about over-intellectualising cinema and the value of hardcore entertainment
Ajay Devgn started out as a reluctant interviewee. Senior journalists say he is a man of few words and tough to pin down. Twenty years on, the superstar has warmed up to media interactions. I land up at his favourite suite in a suburban five-star hotel. Devgn is dressed casually, in denims and shirt, and looks ready for chit-chat.
This superstar started out doing action films but went on to do an eclectic mix of roles over the years. Comedy, drama, action and animation, he has managed to experiment in each genre. After a gap of eight years Devgn returned in an action role. He played a rural cop in Rohit Shetty's Singham. "It's a film about men. Singham marks the return of hardcore raw action to the cinemas with a lot of dialogue-baazi and machismo. It socks a punch; it connects with the man on the street because of its simple narrative and terrific action," says the 40-plus actor.
Having born in an environment where punches, kicks, fights, and injuries must have been commonplace, one wonders if Devgn action in Singham is different from the one in his first film Phool Aur Kaante. "We believe that it is not changing. I don't think so. Look at the last 3-4 films that have released. Dabbang and Ghajini action is the same we used to do before 15 years. Even Wanted. I think we are trying to be over intelligent by trying to make different films. All the audience wants is entertainment. Look at Robot. It's entertainment. Singham is hardcore entertainment; it has humor, drama and hardcore action."
While action has always been his forte, last couple of releases established that his comic timing works well at the box-office too. He had Golmaal 3, Atithi Tum Kab Jaoge? and Dil Toh Baccha Hai Ji. A recent trend shows that, at the BO, comedies do better than most other genres. In fact, few stars even went on to say comedy is the new hot genre in Bollywood. Quiz Devgn about it and he refutes, "I don't think so. I think good films work and bad films don't."
The actor insists his back-to-back comedies were not a planned thing. Today, this genre has been subdivided into slapstick, witty, buffoonery, etc. "All work. Even slapstick works if there is some story. You can't go on the sets and decide to make people laugh by making faces. There has to be something in the scene, in the story," he maintains. Devgn is known for his pranks and funny moments on the sets. Personally he enjoys watching comedies. A few of his fav films are Golmaal (the classic), Jaane Bhi Do Yaaron and Chupke Chupke.
After Rohit Shetty's Singham, he has Priyadarshan's Tezz. Apart from films, Devgn often gets associated with a lot of causes. Last year he lent his name for Mumbai Police's Jagrut Mumbaikar campaign; he also launched an entertainment website in partnership. Recently, he said that he would like to promote and produce projects by new talent. When asked if there is any progress on that front, he says, "We have been working on it. I don't only want to produce it. If I really get excited by something then I will take it on."
It's been two decades for the Golmaal superstar in the industry. After so many films, how does he decide on his next project? "I think the script should touch me and there should be no confusion when I hear it, to say yes or no. If I start thinking whether I should do it or not but it's good, then I don't do it," he says.
Yet at times the actor agrees to have made a wrong choice. When asked if he regrets doing any film, Devgn's response is candid, "So many of them. (Laughs) I would not like to name them, but there are films which I knew, even while shooting, were wrong… Also, back then they were making only such kind of films. Those days nobody used to listen to the story. You knew there were four action scenes, it had good music and some of them did well."
In 2010, he was the only hit superstar. All his films did well at the box office yet he did not get nominated for any awards. The actor is not disappointed with it and explains the practicality behind awards. "The fact with awards is that they invite you when you are getting the award. The day you don't go, they have to give it to someone else. They have to market it. They have to sell their awards. So, they give the award to the ones who attend. And if everyone is coming then they make separate categories and give it to everyone. But it is pressure. There are award ceremonies and people are needed to go there. Apart from me, everybody goes. So it's okay."
Does that mean he does not like appreciation? "Of course, I like awards. But if you go for one that is genuine, and don't go for others, it creates a problem. Best is to not to go for any," he reasons. However, years ago Devgn did go to accept the National Award for Zakhm. "That's different. It's the highest man in the country giving you the award. But at one point there were controversies around this award as well."
ALSO READ:
Why was Aishwarya Rai Bachchan kept away from Singham?
Ajay Devgn talks about how it feels to be back in action!
Is Bajirao Singham corrupt? Tell us about it!
Was Singham entertaining? Find out now! Click to watch the complete movie Singham on YouTube Boxoffice for FREE!