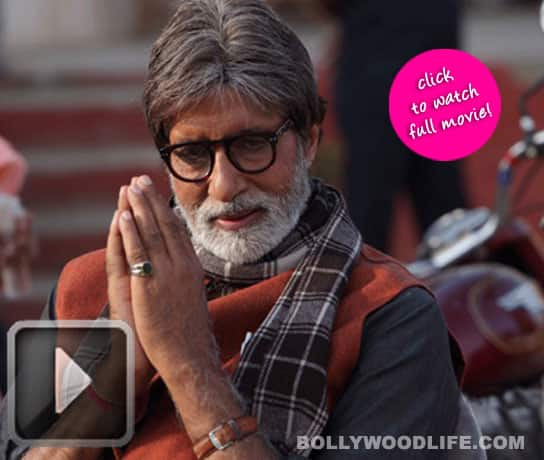 Aarakshan ruffled quite a few political products but what does Amitabh think about the movie? Four months after the movie released, we revive those moments in the wake of our fights against corruption. Big B talks about his role in Aarakshan and shares his thoughts on sensitive topics like reservation and the caste system in our country
I am on a large studio floor and legendary superstar Amitabh Bachchan appears to be in a happy mood. When he is not giving bytes to journalists, he sits on his special seat (three chairs stacked for comfortable height) and intones lines of his favourite poetry in his deep baritone voice. And that makes it worth waiting for him to talk to me…
Your role in Aarakshan…
I am the principal of a private institute. And, obviously because it is a private institute, the question of reservation does not arise. But he is very erudite, almost an idealist in his thinking. He wants some kind of an egalitarian atmosphere. He is concerned for people of all caste and creed and he wants everyone should get equal opportunity. So he conducts private coaching classes in the back yard of his home. And thus, he educates people without any kind of discrimination. These are people who cannot afford the kind of fees required to get into a private institution. In fact, the teacher that he deploys is a Dalit – the role played by Saif (Ali Khan).
The inspiration for the character…
This is perhaps the first issue-based film I have worked on. But yes, there are many things that I say in this film which I internally also feel very convinced about. I feel if everybody is given an equal opportunity, then our society will benefit. My character has a line that he says when giving an interview to a journalist: Is desh mein do bharat bastehain. Sahi manon mein agar humein samaj ke andar parivartan chahiye to in dono ke beech mein jo doori hain use mitana hoga. Yehi samaj ke liye acha hoga. (There are two Indias within our country. If we want to bring about true social change, then we'll have to close the distance between them. This will be good for the society.)
Your opinion on reservation and the caste system…
You come home and I will share with you what I feel about this. What happens is that through you guys (the media), our opinions become public. And then someone will twist and turn it and make it a political issue.
Your opinion on the subject after working on Aarakshan…
Unfortunately, I never understood the caste system because I was born and brought up in a family and atmosphere that never ever preached caste or believed in the caste system. I feel very proud that I am the first bearer of a name that was started by my father, which had no caste reference at all. My father, perhaps, was the very first individual in the city of Allahabad to have undergone an inter-caste marriage. He married a Sikh. My mother was a Sikh. And he was a Kayastha from Uttar Pradesh. And during my school admission, when the teachers asked what my surname was, there was a discussion amongst them (my parents) as to what it would be. My father said that he did not want the surname to bear any kind of caste reflection. And therefore, his pen name became my surname. So I feel very proud of the fact that I was the originator of the Bachchan name – a casteless surname.
Your research on reservation and caste in India…
I wasn't as conversant as Prakashji (Jha) is, because I never paid attention to it or believed in it. I was just an idle viewer or a citizen of this country. When I met Prakashji, he talked about this film and then I came to know various aspects. When he narrated the script to me, I found that his research was so exact and so definite that it opened my eyes and doors inside me. We still keep talking about it. In fact, I know that artists normally do research before they go in front of the camera. But I have to admit – and Prakashji will second me on this – that before facing the media I did tell him to guide us on what his vision was for the film. Because when we (the film's cast) face the media, we may not be educated enough to answer the questions we have to. So we went through a lot of written literature on this matter. And only then did I feel confident enough to face the media.
Your experience of caste and creed based discrimination…
None. I studied in a boarding school and there was nothing like that. Then at Delhi University also, I never experienced anything like that. Truly speaking, I have never thought about it. The first time I experienced it was in 1984, during my political stint. That's when I figured that there are so many different castes. If I have ever been rejected, it was because of my capabilities and I think they are true. If I am not fit to perform a certain job then the person has to remove me from it. For instance, I did not have the ability to be a politician.
Eradicating casteism in India…
Many attempts have been made. And everywhere that I have gone and everywhere we could have questioned and discussed it, we have always realised that there is really no solution. It is something that we have inherited. Our social structure has been developed in this manner. We have to live with it.
Cinema and societal change…
There have been many examples in the past when, quite by accident or coincidentally, a film has been made and somehow it has propagated in society and society has benefitted. I hope that there are some points in Aarakshan that society can pick up.
Watch the complete movie Aarakshan on YouTube Boxoffice for FREE!