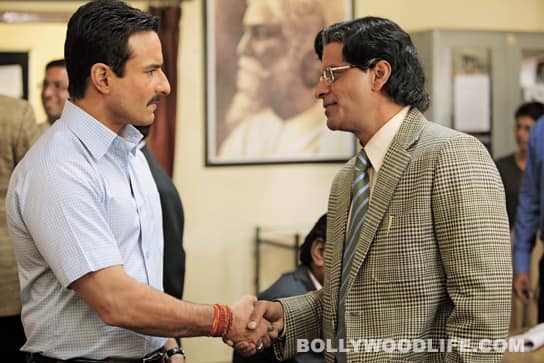 Amitabh Bachchan landed co-star in trouble by declaring an item song that featured Manoj Bajpayee. Media grilled Bajpayee endlessly over Sr Bachchan's quip. What happened then?
Prakash Jha's film Aarakshan had been in the news, mostly for all the wrong reasons, but this one really made us laugh. Apparently in a television interview, Amitabh Bachchan was asked if there was any item number in the film. Tongue firmly in cheek, Mr Bachchan said that Manoj Bajpayee was doing an item song in the film and Bajpayee played along saying that he was the 'item boy'. See if you can spot this item number in the movie on YouTube Boxoffice. Little did he know that the media will hound him endlessly to know all about his so-called 'item number'. Not that Bajpayee hated media attention; only, sometimes it got a little too embarrassing for him. Talking about this he said, "Everyone takes Mr Bachchan very seriously and now they all want to know about this non-existent item number. I am really embarrassed with these sudden comparisons with the Munnis and Sheilas of the world." Probably this is the funniest thing so far about Jha's serious take on the reservation system of India. From what we have seen, the film seems to be heavy duty stuff where most of the characters are pitted against each other. Going by Jha's track record, we can safely say that he might also mellow down the love track between Saif Ali Khan and Deepika Padukone. On second thought, Bajpayee should actually have done an item number so that he doesn't start getting slotted as a serious character artiste for good!
Do you really miss an item song in the movie? Click to watch the complete movie Aarakshan for FREE to find out!