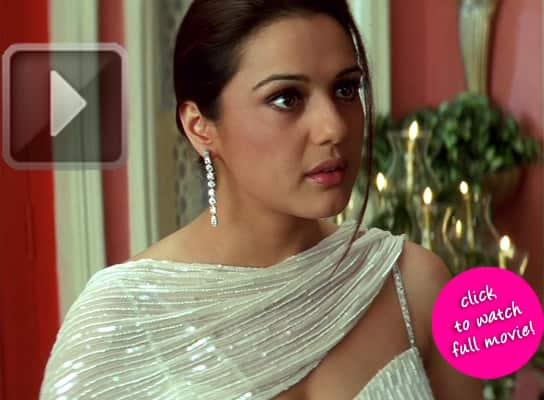 Before she decided to turn designer with Ishq, she tried her hand at dressing up dolls
Preity Zinta looked chic and stylish in the movie Kal Ho Naa Ho, kudos to her stylists. And the dolls from Gia's doll house looked good too, well, kudos to Preity Zinta! Yes, that's true. Don't remember the dollhouse? Take a look at it on YouTube Boxoffice. It was Preity Zinta who styled the dolls for the movie. Well, it so happened that while the actors were busy rehearsing and dressing up for their roles, Preity's gaze fell on the dolls in Gia's doll house. The dollhouse plays an important part in Gia's life and symbolises the changing times in the little girl's life. This dollhouse by Fisher Price looked too western for Preity's liking. So, Preity modified the dolls' outfits. She covered the grandma doll's head with a tiny piece of cloth so that it will look like the doll is wearing a sari – like Sushma Seth, who plays the grandmother, wears in the film. Also, she added a poncho to the mother doll to make it look like a kurti that Jaya Bachchan wears in the movie. And do you know where this has taken Preity? After years of taking her first baby steps into fashion designing, now Preity is all set to turn into a designer for her maiden production Ishq. Now that's what we call destiny!
Wanna check Preity Zinta's debut creations? Click here to the watch complete movie Kal Ho Naa Ho FREE!