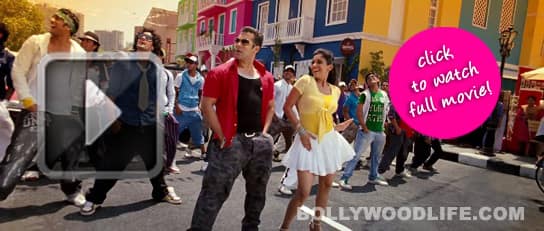 We all know about Salman and Asin's tapori quotient, but what happens when it comes to romance? Do you see Salman Khan marrying Asin? Now is your chance to share what you think about this jodi!
But first, here's a glimpse of the romance between Salman and Asin
Sanjana: Mujhe pata tha, tum zaroor aaoge. (I knew it that you will come.)
Prem: Mujhe bhi pata tha ki tum yeh zaroor kahogi ki mujhe pata tha ki tum zaroor aaoge. Kyun aaoon bhai? Boyfriend hoon tumhara? Pyaar karta hoon tumse? (Even I knew that you will surely say that 'I knew that you will come'. Why should I come? Am I your boyfriend? Do I love you?)
Now, we want to know, do you think this worked? How do you think Asin replied to it? Send in your comments and let us know what you think is the best way to propose a girl like Asin.
Want to find out what happened in this love story? Then click here to watch the complete movie Ready on YouTube Boxoffice FREE!