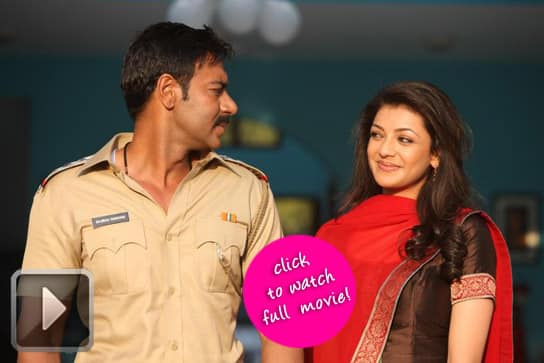 The sets of Singham were ripe with many events, one of them was a prank that Ajay Devgn played on co-star Kajal Aggarwal. Read on to know what happened.
Singham is a fast-paced movie with loads of actions that can catch it on YouTube Boxoffice. But what happened off-screens was equally exciting. We all know that Ajay Devgn is a prankster at heart and during the shoot of Singham it was dear Kajal Aggarwal's turn to be the bakra. It so happened that Ajay briefed Kajal about a scene where she had to thrash the goons with a belt. He made her believe that as a new day heroine this scene will portray woman power. So, once the scene started, Kajal sincerely started bashing up the goons with Ajay encouraging her with enthusiastic 'Maro! Maro!' Till now Kajal was unaware that she was being tricked, she realized something was wrong when the entire crew started laughing; the camera wasn't rolling! The lead lady of Singham was so embarrassed that she apologized to all the goons whom she had thrashed. Now Kajal, weren't you wearing white on that fateful day? Next time, try to stick to white so that everything in your life turns out to be just right.
Want to know how Ajay-Kajal chemistry turned out to be in the movie? Then, click to watch the complete movie Singham for FREE!