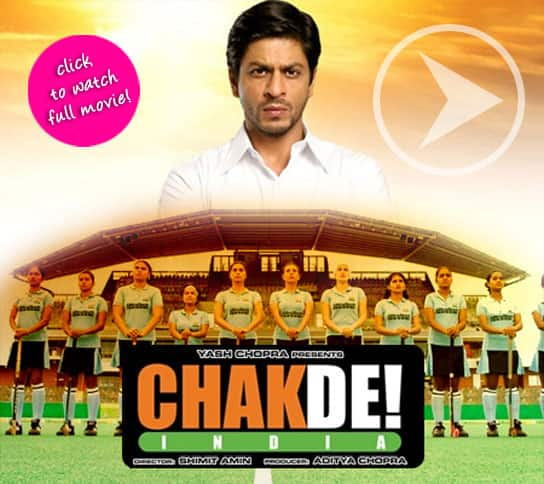 In case you are one of the few who hasn't watched Chak De! India yet, and are wondering if they want to watch it, here's a synopsis of the movie
Kabir Khan (Shahrukh Khan) made one bad judgement call as the captain of the Indian men's hockey team. That ended his career as a player. Now many years later, he hopes to redeem himself by coaching the Indian women's hockey team. His aim – winning the Women's World Hockey Championship to be held in Australia. His team consists of players who've been part of various regional teams and it takes a while for them to unify and play for the country. The captain and goalkeeper Vidya Sharma (Vidya Malvade) is his biggest support, while he faces major opposition from Bindiya Naik (Shilpa Shukla). The team somehow makes it to the finals, but will they win? Especially when Preeti Sabharwal (Sagarika Ghatge) and Komal Chautala (Chitrashi Rawat) are more interested in competing between themselves rather than against the opposing team? Can Kabir regain his countrymen's respect? Chak De! India follows Kabir and his team in their quest for much more than just a trophy.
So you've decided you really want to watch it? Click here to watch the full movie Chak De! India on YouTube BOXOFFICE right now!